the 2019 Summer swan invitational
Curated by Michelle Laxalt, Jiha Moon, and Carson Keith
Now in its ninth year, this year's Invitational is unique in that it was orchestrated by three co-curators—Michelle Laxalt, Jiha Moon. The artists display an extensive range of aesthetic and material approaches, and their work is unified by the fact that each artist engages, somehow, with the notion of "craft."
Several artists in the show adopt a "hybrid approach" in their work, making for a fresh and contemporary use of craft-based materials and processes. For example, images are "printed" on clay and textiles, 3D filament is "stitched," found objects are "collaged" in space, glitter is used as "glaze," and sliced acrylic sheets and coffee filters are used as sculptural "fibers." Much of the work oscillates between high and low materials, tight and loose forms, refined and irreverent surfaces. The wide spectrum of materials and concepts in this exhibition blurs the outmoded distinction between art and craft.
Participating artists: Kathy Abernathy Meliopoulos, Bryan Alexander, Liz Anderson, Rachel Ballard, Maddy Barreto, Dawn Black, Maria Bruckman, Brutal Studio, Jeff Campana, Kelly Cano, Kaitlyn Chipps, Namwon Choi, Jenn Cole, Manty Dey, Gabrielle Duggan, Hannah Ehrlich, Lindsey Elsey, Enchanted Life Goods (Erin Jane Nelson and Jason Benson), Sally Eppstein, Bertha Escoto, Susan Fields, Suzanna Fields, Jessie Giles, Wesley Harvey, Chad Hayward, Kathryn Hunter, Matthew Jacoby, James Jernigan, Wes Jones, Ariel Kellogg, Alex C. Kerr, Chakura Kineard, Christina Kosinski, Michelle Laxalt, Yehrim Lee, Austin Lindsey, Jon Lumpkin, Ana Meza and Maria Ojeda, Matt Mitros, Jiha Moon, Katie Murphy, Jason Murphy, Tyler Nicholson, Paris Ott, Kate Pak, Yesha Panchal, Carley Rickles, John Roberts, Liza Romanovski, Lora Rust, Masa Sasaki, Charlotte Smith, Rebekah Strickland, Karen Tauches, Zipporah Camille Thompson, Tori Tinsley, Gregor Turk, Ife Williams, Barb Williams, Elise Williams, Andy Moon Wilson, Stella Wissner
Image: Wesley Harvey, butt to butt vessel
less than more by Curtis Ames, Recipient of the 2018-19 emerging Artist Award
With Finalists Robert Chamberlin, Krista Clark, Sonya Yong James, and Christina Price Washington
APRIL 11 - MAY 16, 2019
The Swan Coach House Gallery and the Forward Arts Foundation are pleased to present less than more by Curtis Ames, recipient of the organization's 2018-19 Emerging Artist Award.
less than more is the fruit of Ames' scholarly and creative research on concepts related to effort, achievement, and expectation. Working across disciplines, Ames enacts what he calls "uncomplicated and seemingly flippant maneuvers" to imbue seemingly banal materials and objects with affect. For instance, plastic grocery bags repeatedly proclaiming "THANK YOU" hang from brushed brass rods like sterile specimens, while a found low-resolution video continuously loops an idyllic image of a rainbow. The pieces in the exhibition, which range from works on canvas to sculpture, are unified by cool minimalism and cerebral poetics. less than more deliberately generates uncertainty by presenting works that are left purposely unresolved, prompting viewers to grapple with the complicated response of desiring more while accepting what is in front them.
Image: The Best Things in Life Are, 2017, found video, 00:01:13
Paint like dreaming: addison adams, chris deriso, and nico marulanda
FEBRUARY 21 - APRIL 4, 2019
Dreams are the language of the unconscious mind, unique to each individual. The Swan Coach House Gallery presents an exhibition of three emerging artists who process their waking lives through a prolific free-flow of imagery. Each demonstrates a painting and drawing practice that acts like dreaming, mixing abstract and literal elements into distinct personal styles of expression.
Addison Adams' painterly and playful abstractions are oddly figurative,but cleverly smeared beyond recognition. Larger paintings are informed by cartoon-like sketches of bodies and objects. Often, a storyboard element appears at the bottom of his artworks, with fuzzy linear squares denoting a hidden narrative.
Intense, emotionally sensitive, and excited about art, Chris Deriso is always channeling work. Like an "outsider" or "visionary" artist, he states that he co-creates with his imagination, allowing imagery to flow through him from some other place.
As an artist who has recently come out as transgender, Nico Marulanda works out fantasy, fears, and personal freedom on paper. Her art-making functions as a safety zone of watery aesthetics, mysterious narratives, and serenity.
All three artists work in a non-linear fashion, allowing the voice of their inner psychologies to express. As Carl Jung said in his famous Red Book, "Dreams are the speech of my soul."
Image: Addison Adams, Untitled, 27" x 22," 2018
Curated by Karen Tauches
Phantoms and soft time: aRIANNA khmelniuk and wihro kim
JANUARY 10 - FEBRUARY 14, 2019
Phantoms and Soft Time investigates the margins of reality, memory, and longing through the work of Arianna Khmelniuk and Wihro Kim.
In the words of Iman Person, founder of Qualia Projects: "'Phantoms' can suggest a slip in the familiar rootedness of our existence—an uncanniness that extends toward, and beyond, our subconscious. Through painting, video, and scent, both artists awakens relationships between the viewer and the work, which fold within lapses of time and catalyze other dimensions. Phantoms and Soft Time questions how a multitude of these etheric glitches can alter our notions of the present. The exhibition also invites us to account for our everyday phantoms, phantoms which nurture the possibilities of other worlds existing simultaneously within the past and future."
Curated by Iman Person / Qualia Projects
NOVEMBER 15, 2018 - JANUARY 4, 2019
Our annual winter exhibition showcasing hundreds of small works made by emerging and established local artists, priced for the holidays.
ARTISTS: Lisa Alembik, Steven Anderson, Linda Armstrong, Maria Artemis, Rose M Barron, Melissa Basham, Laura Bell, Scott Belville, Khalilah Birdsong, Margaret Boone, Eileen Braun, Caroline Bullock, Lucinda Bunnen, Joe Camoosa, Angelyn Chandler, Gordon Chandler, In Kyoung Chun, Jon Ciliberto, Susan Cipcic, Ryan Coleman, Ande Cook, Taylor Cox, Lucy Currie, Elyse Defoor, Terri Dilling, Craig Drennen, Scott Eakin, Sarah Emerson, Sabre Esler, Amie Esslinger, Cynthia Farnell, PJ Floyd, Gail Foster, Steve Frenkel, Eula Ginsburg, Ben Goldman, Barry Gregg, Gwen Gunter, Hayes Hamilton, Richard Harris, Dana Haugaard, Kris Hill, Roxane Hollosi, Tim Hunter, Anna Jensen, James Jernigan, Susan Ker-Seymer, Wihro Kim, Chase Wilson King, George Kroenert, Judy Lampert, Jack Lawing, Michelle Laxalt, Lori Lejeune, George Long, Allison Luce, Alaina Lyle, Rob Matre, Bill Mayer, Erin McIntosh, Birgit McQueen, Katherine Mialkowski, Donna Mintz, Katherine Mitchell, Linda Mitchell, Dana Montlack, Paul Muldawer, Eleanor Neal, Barbara Olsen, Ann Otterness, Jeffrey Paclipan, Erin Palovick, Lainey Papageorge, Judy Parady, Joe Peragine, Iman Person, Joy Ballard Peters, Junco Sato Pollack, Elizabeth Porcel, Paige Prier, Tony Raffalovich, Adrina Richard, David Robinson, Paul Rodecker, Lucha Rodriguez, Stacie Rose, Stephanie Scott, Lisa Shinault, Matt Simmons, Laura Shull, Erin Sledd, Whitney Stansell, Susan Starr, Ann Stewart, Richard Sudden, Tom Swanston, Katherine Taylor, Zipporah Camille Thompson, John Tindel, Karen Tunnell, Lisa Tuttle, Vasil Vasilev, Igor Vavrosky, Aila Wartell, Catherine Wilmer, Stella Wissner, Jamele Wright, Sr.
Featured Image: Ann Stewart
Curated by Marianne Lambert
Cover-UPs: collaborative photography by david baerwalde and alex martinez
SEPTEMBER 26 - NOVEMBER 7, 2018
This collaborative project by artist David Baerwalde and fashion photographer Alex Martinez is presented in conjunction with Atlanta Celebrates Photography 2018.
Presented are altered photographs which have been torn, taped, and repaired after the removal of the original subjects. Martinez provides out-takes from his professional photo shoots, which are then printed for Baerwalde to work with in a collage-like manner. The two edit from the resulting new artworks. The best results are re-photographed and re-printed as minimal landscapes with mysterious disappearances and "cover-ups." Nature is so often used as an attractive backdrop for models promoting products. Here, the artists attempt to recapture a certain lost beauty and idealism from before the commercial age.
Curated by Karen Tauches
Meditation in space and time: textiles by junco sato pollack
AUGUST 16 - SEPTEMBER 21, 2018
This exhibition presents Junco Sato Pollack's Sky Cloud and Kinhin series. These series are inspired by the Zen spiritual practice of Sutra chanting and internalized stitching as meditation. Pollack finds the repetitive action of chanting and stitching to be a metaphor for Sutras, Mantras, breath, life force, and meditation. "When extended over time, stitch-by-stitch and layer-by-layer, these actions transform into artwork depicting a complete universe, micro- and macro- energy fields, and the mindscape," states Pollack.
The resulting work reveals joyous, spontaneous and unaltered traces on textile substrates: that of mind-thought imprints; that of pure contemplation over time and space; and that of electro-magnetic energy mapping. It is her intention that the exhibition will invite contemplation and a still mind, as a Zen master might say, "as still water of a pond reflects the sun and the moon."
Curated by Marianne Lambert
The Summer Swan invitational:
ceramics, fibers, and folk art
MAY 31 – AUGUST 10, 2018
The Summer Swan Invitational has been a popular annual exhibition at the Swan Coach House Gallery since 2011, selling art that is beautiful, usable and affordable. This year's exhibit has a new curator, Karen Tauches, who incorporates a few favorite participants from the past and adds some fresh, new blood.
"For this exhibition, I've selected works for sale which employ craft materials and/or aesthetics. Some are conceptual; others are not. Juxtaposing functional, trans-functional, and non-functional work from over 50 artists, I'm hoping to express how categories freely overlap from fine art to ceramics for everyday use--all of which are highly valuable in a world gone virtual," said Tauches. "Artists today do not fall neatly into categories. Traditionally, their artworks fit into either Art or Craft, Folk or Fine, Trained or Untrained. However, I think many works have elements of both or more. In this way, new 21st century hybrids will eventually transcend the old polarizing labels."
ARTISTS: Maddy Barreto, Jennifer Benson, Maria Bruckman, Zack Callaghan, Robert Chamberlin, Cameron Covert, Boyce Covert, Martha Cook, Anna Nelson Daniel, Crystal Desai, Peter Dietrich, Alice Elmo, Mark Errol, Juana Gnecco, Mary Gordon, MoonHee Kim, A. H., Brian Hitselberger, Mama Johnson, Tania Julian, Alex C. Kerr, Karine Lepage, Caroline Lathan Stiefel, Elizabeth Lide, Kathrin Mattox, Kimberly McWhorter, Ann Melton, Jiha Moon, Juan Alberto Negroni, Kate Pak, Maryam Palizgir, Sara Santamaria, Sara Schindel, Vernon Smith, Kaleena Stasiak, Mike Stasny, Jordan Stubbs, Joanna Stecker Wilson, Lisa Tantillo, Jenifer Thoem, Zipporah Camille Thompson, Katie Troisi, Gregor Turk, Barb Williams, Susie Winton, Ivana Vavakova, Tripti Yoganathan
Featured Image: Robert Chamberlin
Curated by Karen Tauches
Andrew Boatright:
be not afraid
2017-18 Emerging Artist Award
With finalists: David Armistead, Wihro Kim, Julianne Trew, and Vanessa Brooke Williams
APRIL 12 - MAY 17, 2018
In Be Not Afraid, Andrew Boatright exhibits a sculptural installation in which he presents his first ever work of life-size, figurative sculpture. Departing from his use of abstract gestures and forms, this new approach directly expresses the personal and theological underpinnings latent in his previous work.
Through the image of the crucifixion, Boatright focuses directly on the archetypal Christian image of suffering and humiliation. His present work gives focused attention to the idea of "self-emptying" as a means to new life. Therefore, the giving over of life at the moment of death is, paradoxically, the means through which new life is given.
The title of the show is meant to provide viewers with a hopeful lens through which to view the work, and an affirmation of the radical power of powerlessness. Boatright's sculpture is a contemporary take on historical imagery where the marginalized, oppressed and weak are symbolically present in the broken body of Jesus.
FEBRUARY 22 - APRIL 6, 2018
Art is a visual language. Its aim: to communicate. BEYOND WORDS explores how artists combine images and words to produce thoughts and feelings not generated by either alone. There is a space between the two that offers possibilities and inspiration to the artist where words are a catalyst for visual expression. Combining written text with images has a long history in art. This exhibition pushes the boundaries for viewers accustomed to finding meaning in visual images and for artists who use words as inspiration, commentary, design and poetic dialogue.
ARTISTS: John Beadles, Jessica Caldas, Marcia Cohen, Bethany Collins, Craig Drennen Jason Francisco, Mary Stuart Hall, Ruth Laxson, Christine Mi, Michael David Murphy, Sarah Nathaniel, Esteban Patino, Lesley Ann Price, Lauri Stallings + glo, Karen Tauches, John Tindel, Larry Walker
Curated by Hope Cohn

JANUARY 10 - FEBRUARY 16, 2018
A group exhibition reflecting an urban landscape under heightened development.
ARTISTS: Joe Bigley, Evelyn Breit, Krista Clark ,Derek Faust, Meta Gary, Katie Hargrave, Chakura Kinard, Spencer Maxwell, Rusty Miller, Aaron Kagan Putt, Trevor Reese, Martha Whittington, Zena Zakanycz
Curated by Karen Tauches
NOVEMBER 16 – DECEMBER 30, 2017

Hundreds of small, collectible works by a wide range of emerging and established artists from the community, just in time for the holidays.

Curated by Marianne Lambert
BETH LILLY: KNOWING AND NOT KNOWING
SEPTEMBER 28 – NOVEMBER 08, 2017
This mid career retrospective of Beth Lilly's photographic projects reveals her dark humor as she tells stories about the past and speculates on humanity's future.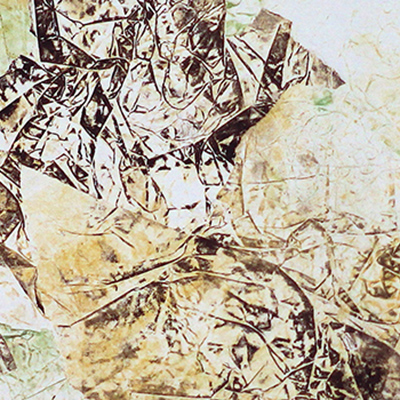 yANIQUE nORMAN, eLEANOR nEAL, AND cOSMO wHYTE
AUGUST 17 - SEPTEMBER 22, 2017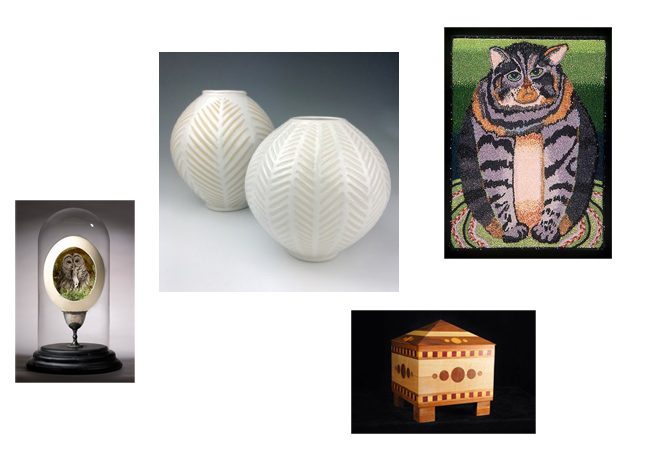 tHE sUMMER sWAN iNVITATIONAL
JUNE 1 – AUGUST 4, 2017

The gallery turns into a craft-oriented "shop" for the summer with a wide assortment of textiles, hand-made sculptural work, and vessels produced in clay and other mediums
Curated by Marianne Lambert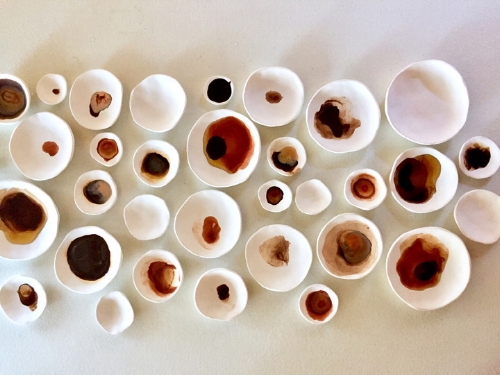 Kellie Romany: 2016-17 Emerging Artist Award
With Finalists: Chris Chambers, Travis Dodd, Rachel Garceau, and Nick Madden
APRIL 6 – MAY 20, 2017
"The great force of history comes from the fact that we carry it within us, are unconsciously controlled by it in many ways, and history is literally present in all that we do." –James Baldwin
INNER SPACE: A PRINTMAKING EXHIBITION
FEBRUARY 23 – MARCH 31, 2017
Curated by Joe Tsambiras and Marianne Lambert
MIXED USE / GAUDI JU-JU
JESS JONES / LILLIAN BLADES
JANUARY 12 – FEBRUARY 17, 2017
Presented are two solo shows in one! Both contemporary artists JESS JONES and LILLIAN BLADES are highly informed by the traditions of Quilting and Craft. Jones cares for and completes quilts left at thrift stores around Atlanta. Blades conjoins the spiritual with the vernacular in an intense "architecture of objects."
*Curated by KAREN TAUCHES
LITTLE THINGS!

NOVEMBER 10 – DECEMBER 30, 2016
Hundreds of Small, collectible works by a wide range of Emerging and Established Artists from the community, on sale for the Holidays.
*Curated by Marianne Lambert
VENT/ PETER BAHOUTH

SEPTEMBER 29 – NOVEMBER 2, 2016
The stereoscopic landscapes and portraits in "VENT" are a photographic response to the heat and pressure felt today on a personal, political and planetary level.
Curated by Marianne Lambert.
SYSTEMS

AUGUST 11 – SEPTEMBER 23, 2016
Amie Laurel Esslinger & Lauren Peterson
Curated by Marianne Lambert.
THE SUMMER SWAN INVITATIONAL
Ceramics and Handmade Objects
JUNE 2 – JULY 30, 2016
Curated by Marianne Lambert.
An exhibition and sale of glass, ceramics, fiber, and handmade objects by both established and emerging artists from Georgia. This year curator Marianne Lambert will feature the work of the
Bermans, a reknowned family of Georgia potters–Rick, Jennie Ashcraft, & Jorie.
2015-16 Emerging Artist Award Winner
GRAY SPACE
Kelly Kristin Jones

APRIL 14 – MAY 26, 2016
Plastic sheeting, installed to protect and manage detritus at construction sites, allows for a new photographic representation of the landscape, with Finalists: Dustin Chambers, Antonio Darden, Pastiche Lumumba, Vanessa Brook Williams
SERIOUSLY FUNNY
Political Cartoons and Illustrations by ALEJANDRO AGUILERA
FEB 25 – APRIL 8, 2016
Curated by Marianne Lambert
Humor has long been a part of the culture and character of the Cuban people and is used as a form of coping with their oppression. The images in this exhibition are amusing and reflective rather than mocking or ironical. They are tools of communication that Aguilera produces everyday since leaving his homeland.
PROJECTION

JAN 14 – FEB 19, 2016
Curated by Karen Tauches
Viewers were invited to experience the fascinating differences between photographic prints and video. This exhibition took place at theGallery and the Historic Swan House at The History Center. Gallery Artists: Morgan Alexander, David Baerwalde, Benita Carr, Amanda Greene, Courtney Egan, Jody Fausett, Audrey Hynes, Sarah Hobbs, Bill Orisich, Christina Price Washington, Jessica Scott Felder, and Steffen Sornpao.
LITTLE THINGS 2015

NOV 12, 2015 - JAN 6, 2016
Curated by Marianne Lambert
Featuring hundreds of small works by established and emerging artists from the Southeast!
BUT IS IT PHOTOGRAPHY?
Nakita Duncan, Ryan Nabulsi, Spencer Sloan, Christina Price Washington, & Angela West

SEPT 24 –OCT 30, 2015
Curated by Marianne Lambert
ABSTRACTION X 2
Paintings by Heather Greenway & Stacie Rose

AUG 13 -SEPT 18, 2015
Curated by Marianne Lambert
SUMMER SWAN INVITATIONAL
Contemporary Southern Pottery and Handmade Objects
JUNE 4 – AUG 5, 2015
"PLASTIQUE" AMANDINE DROUET

APRIL 16 – MAY 27, 2015
2014-2015 Emerging Artist Award Winner Amandine Drouet produced an entire body of work made from this disregarded material; All of it gathered locally from her neighborhood and friends. Aware of plastic's negative impact on the natural environment, the artist hopes to raise awareness and encourage attitudes of re-use.
Work from Finalists Jessica Caldas, Chris Chambers, Henry Detweiler, and Chantelle Rytter were also on display.
MEMBER & FAMILY EXHIBITION

MARCH 26 – APRIL 10, 2015
Featuring: Carolyn Carr, Carolyn Caswell, Shannon Candler, Grady Clinkscales, Grady Clinkscales Jr., Betty Edge, Mary Croft Ferguson, Greg Ferguson, Jean Glenn, Wanda Hopkins, Dixie Purvis, Karen Tauches, Ansley West Rivers.
FAF 50TH ANNIVERSARY EXHIBITION
FEB 27 – MAR 20, 2015
Presented were images and texts regarding the gifts the Forward Arts Foundation gave to various Atlanta Art Insititutions since its inception (High Museum, Michael Carlos Museum, Botanical Gardens, Beltine, MOCA GA, the Atlanta Contemporary Art Center. Etc). Additional information was provided about the Orly Crash and the connection between the Forward Arts Foundation and the High Museum.
"A COLLECTION OF COLLECTIONS"
LUCINDA BUNNEN
JAN 15 – FEB 20, 2015
This exhibition is the second in a series of three that honor the work of Atlanta photographer, philanthropist, and art collector, Lucinda Bunnen. Beyond her interest in collecting art, Bunnen is a prodigious collector of many things. Presented here were a series of 27 photographs that she created which assemble and document some of her many collections.
LITTLE THINGS 2014
NOV 13, 2014 – JAN 2, 2015
This annual exhibition is The Swan Coach House Gallery's most popular event! The walls are covered with a wild assortment of artworks on sale for the holidays, in a variety of mediums including painting, drawing, sculpture, photography, printmaking, fiber, and ceramics. Collect small works by Atlanta's most important
artists, as well as discover new emerging talent. Curated by Marianne Lambert.
"RECODE. PLAY. LOOP."
BOJANA GINN
SEPT 24, 2014 – OCT 31, 2014
Reflecting on the concept of DNA as a code of life, Ginn explores the idea of drawing as code. Her multimedia installation reveals the process of repetition and mutation, by which drawing is recoded into sculpture, sculpture into drawing, drawing into video, and installation into photography.
"TERRA FLORA"
PAM ROGERS
AUG 13 – SEPT 19, 2014
Roger's nature-based work is strongly influenced by Botanical Illustration, Art History and Anthropology. Paintings, drawings, sculpture and installation of botanic imagery are conceptually based on the deconstruction of relationships, events, and personal moments. Her work examines the relationships between people, plants, and place.
EMERGING ARTIST AWARD
15YR RETROSPECTIVE
SUMMER SWAN
INVITATIONAL 2013
2012-13 Emerging Artist Award Winner
WABI SABI
BORN
"SEARCHING FOR BEAUTY"
TOM VENTULETT